AromaEase™ Essential Oil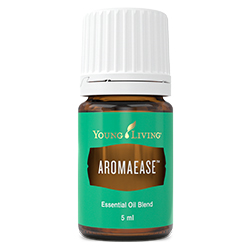 AromaEase™ has a cool, minty aroma and contains powerful essential oil constituents that provide feelings of calmness when used aromatically. With naturally occurring constituents menthol, l-carvone, zingiberene, linalool, and ocimene, and its clean and nurturing scent, it can be used to create a calm and relaxing aromatic environment for the body, mind, and spirit.
ESSENTIAL OILS: Peppermint, Spearmint, Ginger, Cardamom, Fennel
Retail Price: $76.10
Wholesale Price: $57.85
---
---
How to Use
Topical: Dilute with V-6™ Enhanced Vegetable Oil Complex and apply to desired area as needed.
Aromatic: Diffuse up to 30 minutes 3 times daily.
Caution: Keep out of reach of children. Dilute before applying to skin. If you are pregnant, nursing, taking medication, or have a medical condition, consult a health professional prior to use. Not intended for children under the age of 6 without the advice of a health professional. Not for internal use.
Storage: Store in a cool, dark place.
Other Uses
While travelling, dilute and use topically on neck and chest for a comforting sensation.
Dilute and apply to the back of the neck and over the shoulders for a calming and soothing experience.
---
---
Ingredients
Peppermint (Mentha piperita) oil †, Spearmint (Mentha spicata) leaf extract †, Ginger (Zingiber officinale) root oil †, Cardamom (Elettaria cardamomum) seed oil †, Fennel (Foeniculum vulgare) oil †.
†100% pure, therapeutic-grade essential oil