Blue Tansy Essential Oil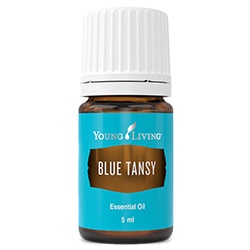 For years Young Living members have enjoyed the benefits of Blue Tansy essential oil in blends such as Valor®, Peace & Calming®, and JuvaFlex®. Now it can be yours as a single oil, and you can discover for yourself how to use Blue Tansy as an aromatic in your diffuser, as a topical application in your own homemade Blue Tansy skin care products, and in plenty of other ways as you use and share this wonderful essential oil.
Blue Tansy is a rare botanical in the chamomile family, and it has become celebrated for its use in high-end, luxury Blue Tansy skin care products. Strategic, conscientious sourcing of this premiere botanical, typically native to Morocco, allows us to bring our members access to the elite Blue Tansy essential oil.
Perhaps Blue Tansy's most unique feature, chamazulene is the naturally occurring constituent that provides the oil's characteristically rich, deep-blue color, which appears only after steam distilling the tiny yellow flowers.
With a sweet, pleasant aroma, any use becomes uplifting—whether it's an addition to your nighttime routine or diffused throughout your home.
Blue Tansy Essential Oil Uses:
Combine Blue Tansy with Cool Azul™ essential oil blend and apply it topically for a soothing massage after exercise.
Add Blue Tansy essential oil to your favorite moisturiser and apply it topically to help soothe and moisturise the skin.
Use Blue Tansy in your Aromadome to help hydrate and beautify your skin.
Diffuse Blue Tansy throughout your home to create an inviting, uplifting environment with its sweet, floral fragrance.
Add Blue Tansy to your own DIY bath salts to enjoy its skin-cleansing benefits and to help create a relaxing at-home spa atmosphere.
Retail Price: $203.95
Wholesale Price: $155.00
---
---
How to Use
Topical:
Apply directly to desired area. Dilution is not required, except for the most sensitive skin. To avoid staining clothing or skin, dilute with a moisturiser or carrier oil..
Aromatic: Diffuse up to 1 hour 3 times daily.
Cautions: Keep out of reach of children. For external use only. Keep away from eyes and mucous membranes. If you are nursing, taking medication, or have a medical condition, consult a health professional prior to use. Not intended for use during pregnancy. May stain diffusers, fabrics, surfaces, and skin.
---
---
Ingredients
Blue Tansy (Tanacetum annuum) flower oil†
†100% pure, therapeutic-grade essential oil