Dill Essential Oil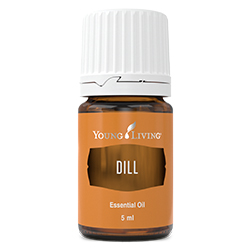 Dill essential oil is produced from the distillation of the whole plant and can be calming when used aromatically. This oil can be combined with Roman Chamomile to enhance any relaxing aromatic experience.
Dill essential oil provides a fresh, pungent flavour to replace fresh or dried dill in dressings and dips. Its flavour also pairs beautifully with Carrot Seed and Lemon essential oils as a flavourful ingredient for soups and stews. With fresh dill being a key flavour in many traditional Russian, European, Mediterranean, Asian, and Scandinavian dishes, Dill can be a great way to lend a rich flavour to a wide variety of cuisines!
Retail Price: $33.70
Wholesale Price: $25.60
---
---
How to Use
Topical: Dilute 1 drop with 1 drop of V-6™ Vegetable Oil Complex and apply to desired area as needed.
Aromatic: Diffuse up to 30 minutes 3 times daily.
Caution: Keep out of reach of children. Keep away from eyes and mucous membranes. If you are pregnant, nursing, taking medication, or have a medical condition, consult a health professional prior to use.
Culinary: Use in recipes in place of fresh or dried dill. Combine Dill essential oil with olive oil to use as a marinade for fish and veggies. Add a little Dill essential oil to your favourite game-day dip for a burst of flavour.
Storage: Store in a cool, dark place.
---
---
Ingredients
Dill (
Anethum graveolens
) † essential oil
†100% pure, therapeutic-grade essential oil