Egyptian Gold Essential Oil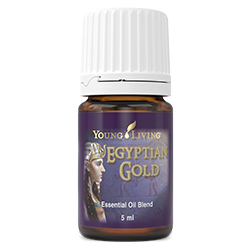 Egyptian Gold™ contains ancient biblical oils that can be used to enhance moments of devotion and reverence. Traditionally used for emotional and spiritual transformation dating back to Ancient Egypt, this combination of essential oils is balancing, stabilising, empowering, and uplifting. Use Egyptian Gold for meditation and visualisation, and to deepen spiritual connections.
(This essential oil blend is marked as a dangerous good and therefore cannot be sent via express post.)
ESSENTIAL OILS: Frankincense, Balsam Canada, Lavender, Myrrh, Hyssop, Northern Lights Black Spruce, Cedarwood, Vetiver, Rose, Cinnamon Bark
Retail Price: $93.25
Wholesale Price: $70.85
---
---
How to Use
Topical: It is not recommended for this essential oil blend to be applied topically.
Aromatic: Diffuse up to 10 minutes 3 times daily.
Caution:
Keep out of reach of children. For external use only. Keep away from eyes and mucous membranes. If you are pregnant, nursing, taking medication, or have a medical condition, consult a health care professional prior to use.
Storage: Keep in a cool, dark place.
Other Uses
Diffuse to help release negative emotions.
Use while meditating to inspire devotion and reverence.
---
---
Ingredients
Frankincense (Boswellia carterii) oil †, Balsam Canada (Abies balsamea) needle oil †, Lavender (Lavandula angustifolia) oil †, Myrrh (Commiphora myrrha) oil †, Hyssop (Hyssopus officinalis) leaf oil †, Northern Lights Black spruce (Picea mariana) leaf oil †, Cedarwood (Cedrus atlantica) bark oil †, Vetiver (Vetiveria zizanoides) root oil †, Rose (Rosa damascena) flower oil †, Cinnamon (Cinnamomum zeylanicum) bark oil †.
†100% pure, therapeutic-grade essential oil