JuvaFlex Essential Oil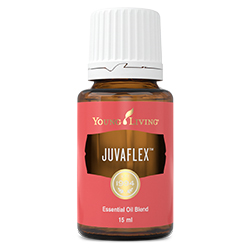 JuvaFlex™ is a combination of oils that have been studied for their supportive effects on the liver and the digestive and lymphatic systems. It may also support healthy cell function.* JuvaFlex™ works well with JuvaTone® tablets and Di-Gize™ essential oil blend.
Retail Price: $139.15
Wholesale Price: $105.80
---
---
How to Use
For aromatic and topical use. Refer to the "How to Use' brochure and label.
Possible skin sensitivity. If pregnant or under a doctor's care, consult your physician. Dilution recommended. Keep out of reach of children. Avoid using on infants and small children.
---
---
Ingredients
Sesame seed oil, fennel (Foeniculum vulgare), geranium (Pelargonium graveolens), rosemary (Rosmarinus officinalis CT 1,8 cineol), Roman chamomile (Chamaemelum nobile), blue tansy (Tanacetum annuum), and helichrysum (Helichrysum italicum).