Marjoram Essential Oil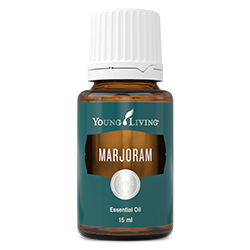 Steam distilled from the leaves of the plant, Marjoram essential oil has a similar flavour to oregano that's perfect for complementing delicate-tasting foods like fish and vegetables dishes. Marjoram is found in many savoury dishes, especially in Italian cuisine.
Marjoram is a key oil used in the Raindrop Technique and can be used in massage after exercise.
Retail Price: $77.35
Wholesale Price: $58.79
---
---
How to Use
Topical: Dilute 1 drop with 1 drop of V-6™ Vegetable Oil Complex and apply to desired area as needed.
Aromatic: Diffuse up to 30 minutes 3 times daily.
Caution: Keep out of reach of children. Keep away from eyes and mucous membranes. If you are pregnant, nursing, taking medication, or have a medical condition, consult a health professional prior to use.
Culinary: Add Marjoram essential oil to recipes for a warm, herbaceous note.
Storage: Store in a cool, dark place.
Other Uses:
Substitute 1 drop Marjoram oil per tablespoon of fresh marjoram in your favourite recipes. If less is called for, just dip a toothpick in the Marjoram bottle and swirl it through the wet ingredients.
Add Marjoram essential oil to extra virgin olive oil to make fantastic salad dressings, marinades, and bread dips.
---
---
Ingredients
Marjoram (
Origanum majorana
) † leaf oil
†100% pure, therapeutic-grade essential oil