Oregano Essential Oil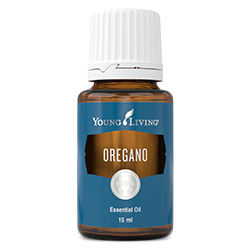 Oregano essential oil (Origanum vulgare) comes from the popular oregano plant, which is a member of the mint family and is native to areas of western Asia and the Mediterranean. Its warm, herbaceous qualities have made the plant a popular ingredient in Greek and Italian cuisine, but there are many Oregano oil uses in topical and aromatic applications as well.
While the oil has an intriguing aromatic profile, Oregano oil benefits also include creating a relaxing experience through a warming massage and topical application. In fact, you can find Oregano oil in Ortho Sport® Massage Oil and Young Living's proprietary Raindrop Technique®.
Oregano essential oil is an easy way to flavour savoury dishes. Its distinctive, pungent taste makes it an indispensable addition to Mediterranean and Mexican cuisines, though it can be used in a variety of cuisines and recipes.
While its spice makes it a delicious addition to dishes when used sparingly, when applying topically, be sure to use a carrier oil such as V-6™ Vegetable Oil Complex to dilute this powerful oil.
Retail Price: $61.50
Wholesale Price: $46.75
---
---
How to Use
Topical: Dilute 1 drop with 4 drops of V-6™ Vegetable Oil Complex. Test on small area of skin on the underside of arm and apply to desired area as needed.
Aromatic: Diffuse for an earthy, herbaceous scent and to create a comforting environment.
Caution: Keep out of reach of children. Keep away from eyes and mucous membranes. If you are pregnant, nursing, taking medication, or have a medical condition, consult a health professional prior to use.
Culinary: Add sparingly to various dishes for extra flavouring, particularly Mexican and Mediterranean dishes.
Storage: Store in a cool, dark place.
Other Uses:
Add to V-6™ Vegetable Oil Complex and massage into muscles after activity.
Apply to the bottoms of feet to help unwind and relax before bedtime.
---
---
Ingredients
Oregano (
Origanum vulgare
) † leaf/stem oil
†100% pure, therapeutic-grade essential oil