PanAway Essential Oil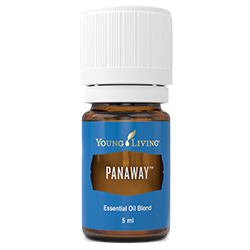 Containing wintergreen and clove essential oils, Pan-Away is often used for massage or after exercise. This invigorating and cooling blend has a refreshing scent, and is particularly uplifting during moments of exhaustion. PanAway contains naturally occurring constituents methyl salicylate, gamma-circumene, menthol, and eugenol.
ESSENTIAL OILS: Wintergreen, Helichrysum, Clove, Peppermint
Retail Price: $78.00
Wholesale Price: $59.30
---
---
How to Use
Topical: Dilute with V-6™ Enhanced Vegetable Oil Complex and apply to desired area as needed.
Aromatic: It is not recommended for this essential oil blend to be diffused.
Caution: Keep out of reach of children. For external use only. Keep away from eyes and mucous membranes. If you are pregnant, nursing, taking medication, or have a medical condition, consult a health professional prior to use. Not intended for children under the age of 6 without the advice of a health professional.
Storage: Keep in a cool, dark place.
Other Uses
Dilute and apply on desired location following exercise. Keep away from the eyes and face.
Dilute PanAway with V-6™ Enhanced Vegetable Oil Complex and rub on the chest in the morning to help invigorate you for the day ahead.
Complementary products include: Ortho Sport Massage Oil, Ortho Ease Massage Oil, Deep Relief Roll-On, Relieve It essential oil blend, and Peppermint essential oil.
Use during meditation to uplift and increase mental alertness.
---
---
Ingredients
Wintergreen (Gaultheria procumbens) leaf oil †, Helichrysum (Helichrysum italicum) flower oil †, Clove (Eugenia caryophyllus) bud oil †, Peppermint (Mentha piperita) oil †.
†100% pure, therapeutic-grade essential oil