Tangerine Essential Oil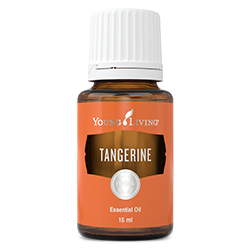 Tangerine essential oil is extracted by cold pressing the rind of the tangerine fruit. Tangerines, which are part of the Rutaceae family, likely originated in Southeast Asia and have since spread to subtropical areas around the world. Like the fresh citrus fruit, Tangerine oil is loved by children and adults alike, with its delightfully sweet aroma that can create a happy, contented mindset.
Because of its appealing aroma, Tangerine oil uses include a wealth of topical and aromatic applications. Use its cleansing benefits in your morning skin care routine for an added boost or apply it to your temples before study time or meditation. Its fragrant, calming aroma also makes it an important part of Young Living favourites such as Citrus Fresh™, Joy™, Inner Child™, Peace & Calming®, NingXia Red® and Slique® Essence.
Tangerine essential oil is one of the sweetest flavours of all Young Living's citrus culinary oils. Bringing complex citrus notes to savoury dishes and desserts, Tangerine essential oil is a bright, tangy addition in the kitchen.
Retail Price: $35.69
Wholesale Price: $27.15
---
---
How to Use
Topical: Dilute 1 drop with 1 drop of V-6™ Vegetable Oil Complex and apply to desired area as needed.
Aromatic: Diffuse up to 1 hour 3 times daily.
Caution: Keep out of reach of children. Keep away from eyes and mucous membranes. If you are pregnant, nursing, taking medication, or have a medical condition, consult a health professional prior to use. Avoid direct sunlight or UV rays for up to 12 hours after apply product.
Culinary: Add to recipes for a wonderful citrus zing.
Storage: Store in a cool, dark place.
Other Uses:
Diffuse at work or at home to infuse your space with a sweet, refreshing aroma.
Add to a gentle facial cleanser for extra cleansing benefits and beautifying properties.
Create a DIY air freshener by combining 30 drops oil with 2 cups distiller water in a spray bottle. Spray around the house for a fresh, clean scent.
Put a couple drops of oil on cotton balls and place them in your car air vents. They'll disperse a refreshing, citrus scent that's perfect for rush hour.
Add a drop or two of Tangerine to NingXia Zyng™ for a delicious and tangy twist on the lightly sweetened sparkling drink.
Give your marinades a sweet kick by adding Tangerine essential oil instead of Lemon or Lime.
Add a few drops to your water to get a refreshing citrus taste.
Try adding a little Tangerine to your salad dressing for a wonderful citrus zing.
---
---
Ingredients
Tangerine (
Citrus reticulata
) † rind oil
†100% pure, therapeutic-grade essential oil