Thyme Essential Oil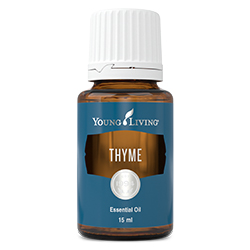 Thyme essential oil is the concentrated distillation of Thyme, a classic and beloved kitchen herb. Thyme essential oil can be used in place of the dried spice in your favourite dishes and is always easy to keep on hand.
Thyme is a key ingredient in Ortho Ease massage oil and is great for use after exercise. It is also believed to bring a sense of purpose when used aromatically. The benefits of Thyme oil make it an essential ingredient in the Longevity™ essential oil blend and Inner Defense®.
Retail Price: $75.15
Wholesale Price: $57.10
---
---
How to Use
Topical: Dilute 1 drop with 4 drops of V-6™ Vegetable Oil Complex. Test on small area of skin on the underside of arm and apply to desired area as needed.
Aromatic: Diffuse up to 10 minutes 3 times daily.
Caution: Keep out of reach of children. Keep away from eyes and mucous membranes. If you are pregnant, nursing, taking medication, or have a medical condition, consult a health professional prior to use.
Culinary: Add to recipes for a warm, herbaceous taste.
Storage: Store in a cool, dark place.
Other Uses:
Include in your next pasta or poultry dish for a delicious new layer of flavour.
Use a few drops in your marinade to infuse meats and vegetables with herby richness.
Make your dips extra appetising by adding a drop of Thyme essential oil.
---
---
Ingredients
Thyme (
Thymus vulgaris
) † leaf oil
†100% pure, therapeutic-grade essential oil